La Perla di Torino: a history of traditions and innovation
Since its born, in 1992, La Perla di Torino links its name to the Piedmont sweet tradition, celebrating quality chocolate in one of the most beloved historical expressions in the MOLE building city: chocolate truffles.
With the first 3 creations La Perla Nera, La Perla Bianca and the dark chocolate truffle Extreme, today iconic products, the founder of the artisanal laboratory Sergio Arzilli wanted to celebrate Torino, its adoptive city. He started a path oriented in valorizing traditional chocolate truffle and inventive creations, that in over 25 years of activity conquered the attention – and the palate – of Italian and international gourmands.
Sergio Arzilli's history is a story of success born from a glitch: being diagnosed gluten intolerant, at 38 years old realizes that he cannot continue to work as a pastry chef in the family patisserie. With the intention of not leaving this background experience, decided to deepen the chocolate world, transforming his curiosity in a continuous exploration itinerary.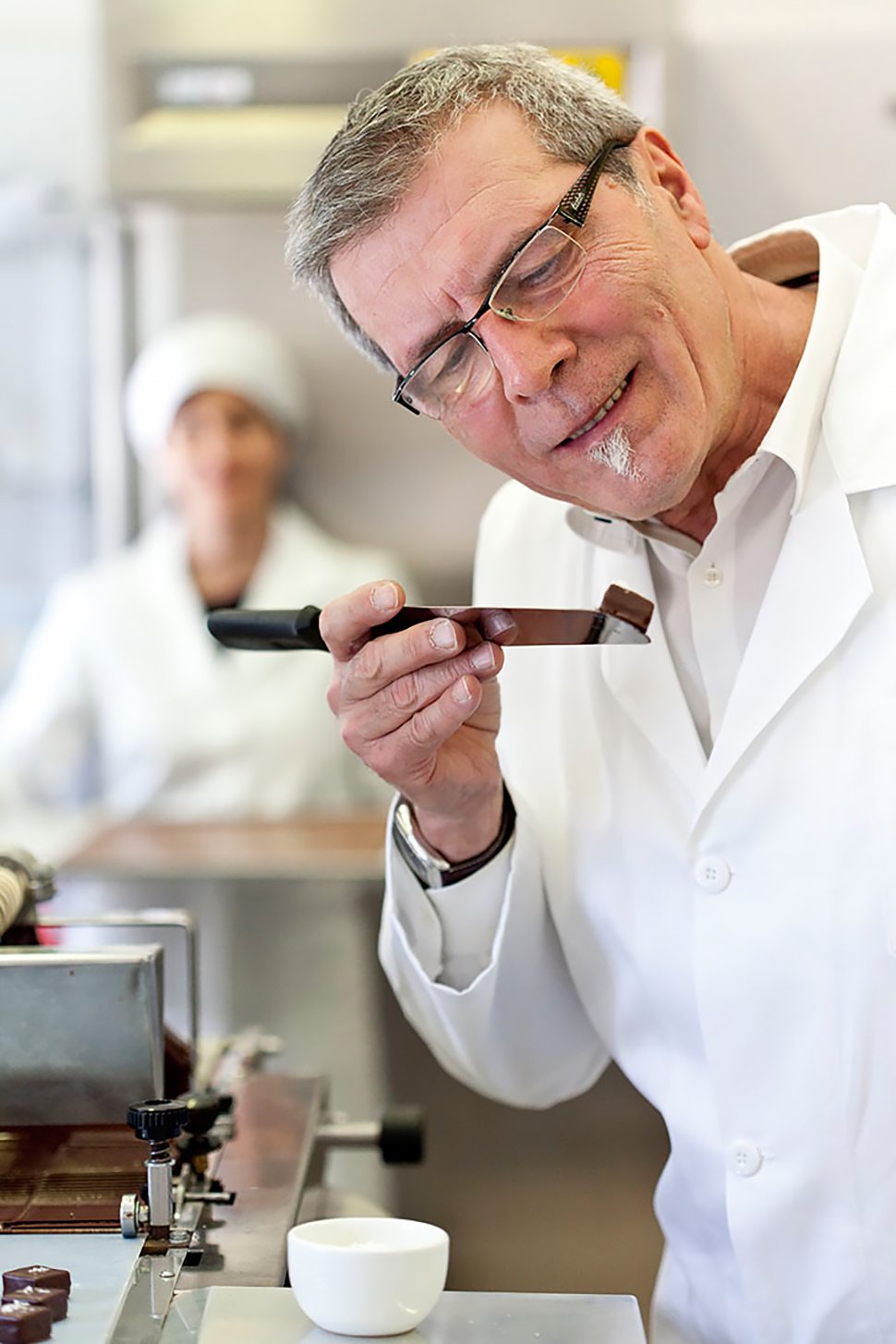 "My brother and I, since our childhood, worked in the family patisserie. When I have been diagnosed gluten intolerant, I realized that I could no renounce to work in delicacy world. Most of my knowledge comes from my father's teachings, so I decided to dedicate myself to the chocolate world, producing it without gluten and artificial components" – Sergio Arzilli

His passion for good chocolate, transmitted to his daughter Valentina that today, next to him, leads the company, can be translated in high standard of excellence in La Perla di Torino's laboratory. Each chocolate truffle and each recipe are prepared, today as before, with high quality ingredients and with process that respect the raw materials, to glorify perfumes and flavours.
Since 1992, La Perla di Torino embodies and spreads the tradition of chocolate truffles in the world, enchanting gourmands with traditional and historical recipes and continuing in surprising with innovative and encompassing flavours.
Apart from the great classics, La Perla di Torino over the years understood how to evolve and explore new territories. Enriching his selection with many variations and showing his ability in catching new market trends and the capacity of catching challenges, La Perla di Torino realized new and innovative versions with a up to date tastes over the years.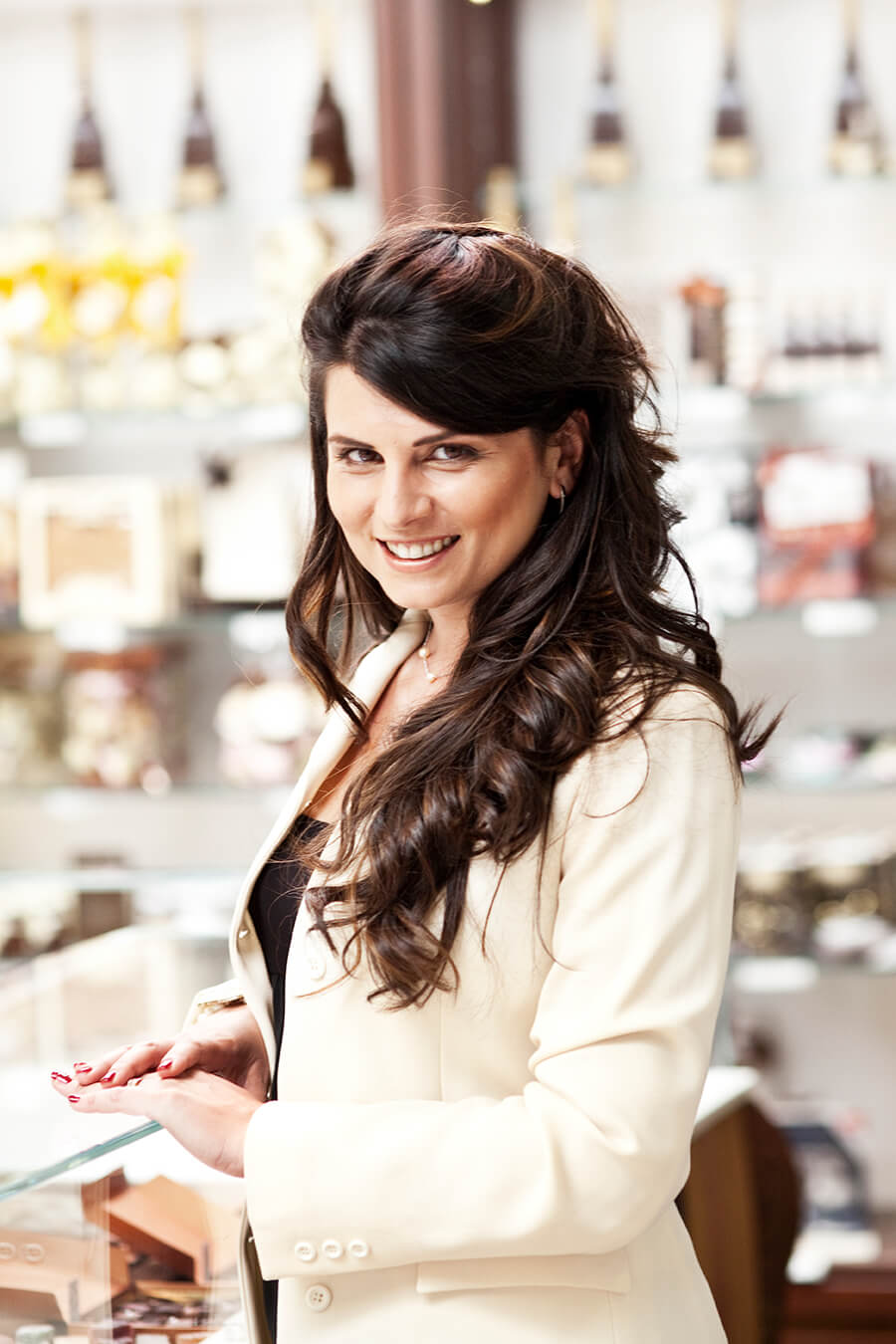 "Starting from traditional recipes that made iconic La Perla di Torino, we realized new products able to understand new consumer's requests and able to catch trends from other area: fashion, design, art" – Valentina Arzilli
Excellence
becomes
a standard
To express high quality artisanal identity, for La Perla di Torino means to assure that each single product is perfect from its flavor: each new recipe comes from a creative process that can last several months. Same attention is given to the packaging, exposed to meticulous visual controls.
The attention given to details leaded La Perla di Torino to gain the BRC certification (May 2018), according to the global standand for quality and safety of agrifood products.
In this way La Perla di Torino brings the authentic high quality chocolate according the piedmontese tradition everywhere in the world. Apart from Italy, the products can be found in Germany, Russia, Switzerland, USA, Canada, Middle East, Japan and Australia.
The laboratory:
yesterday and today
and its shops.
Via Catania, 9 in Turin is the place where everything started and today is still the major showroom. The perfect place to breath the history of the company and to discover the complete variety of its delicacies.
In 2015, the laboratory has been moved in Lungo Dora Pietro Colletta 81, within the creation of small corner for your shopping. Spaces and passion keep growing but the artisanal vocation remains the same. Inside the laboratory, the production can count on a low environment impact that permits to grow the production capacity, without inflicting quality.
To discover how we make chocolate truffles and our delicacies, it is possible to visit the laboratory. A path to discover from the raw materials till the finished product.
La Perla di Torino's Awards